American Grown Timothy Hay
This has come a long way!
Imported and grown in the states of Oregon and Washington in America, where their hot summers make it an ideal growing climate for this hay.
Its consistent top quality makes it recoginised as one of the best hays you can buy in the world.
Its hard to find anything else that comes up to this standard.
Click on the image to see a video of current stock.
---
Soft Hay
Softer hay comes from longer established meadows that may have not been ploughed and reseeded for decades, here more native less vigorous grass's will grow such as cocksfoot, timothy,sweet vernal along with lots of herbage too, may not have the best feed value but certainly has the "wow factor" when it comes to smell!
Click on the image to see what this years looks like.
---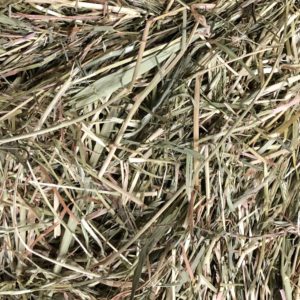 Stalky Hay is from fields, re-seeded maybe up to 4, 5,6 years old, the hay is reasonably coarse.
As its relativley young grass it has thicker stems and more feed value, if its not re-seeded it will slowly be taken over by the more traditinal meadow grasses and gradually revert back to a softer hay.
Current Stalky is a mix of some of last year's coarse yellow seed hay and some greener new season hay, it can be wrongly mistaken for straw.
Click on the image to see a video of current stock.
---
Meadow Hay and American Timothy Mix
We are trying a mix of two hays for something different to try.
Along with English  Meadow Hay we have mixed in some of our American grown Timothy Hay, it should  make things a bit more interesting for your animals giving them the best of both and encourage them to pick through and choose their favourite while able to munch through a choice of stems. We have approximately mixed 60% Meadow and 40% Timothy.
Available in Box Combinations to start.
---
Barley Straw
Unlike hay this is replanted every year. The straw is the stem that the barley  grain grows on, its harvested with a large combine that thrashes the grain from the straw. The grain goes for animal feed or brewing while the straw is a good source of fibre for animal feed and can also be used as bedding.
Not to be confused with wheat straw which is used for bedding.
Click on the image to see a video of what this years looks like.